2022 Workforce Solutions/WIB Annual Business Report Released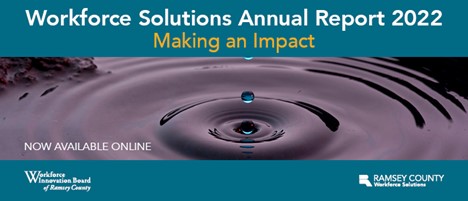 17 Apr 2023
Workforce, News
The Ramsey County Workforce Solutions and Workforce Innovation Board of Ramsey County 2022 Annual Business Report is now available online.
The report showcases the achievements Ramsey County Workforce Solutions had working with residents, the Workforce Innovation Board of Ramsey County, business representatives, partners and others in 2022.
Explore the report to learn about:
Programs and services.
Financials and funding sources.
Projects and initiatives.
Success stories.
More Topics
One week before classes began for St. Paul Central High School's spring semester, work-based learning coordinator Emily Punyko found out she would be teaching an honors engineering essentials course — despite having little exposure to the subject matter. Read the complete article here. 
Join us for lunch and an engaging discussion to learn about how the Infrastructure Investment and Jobs Act will impact our local workforce. A panel of industry experts will share their insights. Monday, May 1, 2023, 11:30 a.m. - 1:30 p.m. Ironworkers Local 512 Hall, 851 Pierce Butler Route,...
A prison sentence introduces a traumatic challenge to the lives of the incarcerated. But the difficulty of immersing back into society at the end of their prison term can present these individuals with an equally challenging scenario. About one-fourth of incarcerated Minnesota individuals released each year return to prison...