Tech Talk: Future Tech Entrepreneurs and Community Wealth Building - Recording Now Available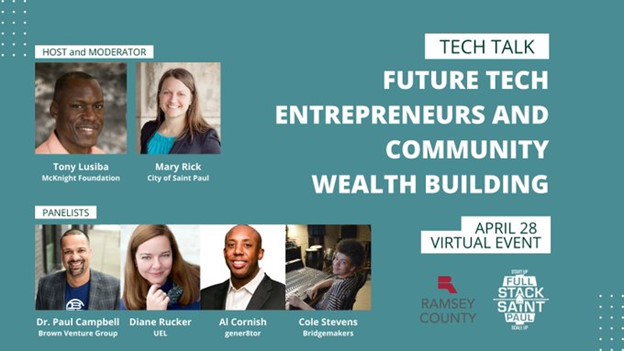 4 May 2022
Workforce, News
A recording of the Tech Talk: Future Tech Entrepreneurs and Community Wealth Building webinar is now available. Learn from a dynamic panel of community leaders focused on sharing resources to grow tech entrepreneurs with a focus toward BIPOC wealth building.
Thank you to Full Stack Saint Paul and the Workforce Innovation Board Tech Committee for co-hosting this event.
More Topics
In the coming weeks, millions in relief dollars will pour back into the pockets of frontline workers and Minnesota businesses.
Across the nation, companies are struggling to find and retain diverse talent, resulting in high turnover costs, lower productivity and down revenues.
Union Job & Resource Fair - On-site Hiring Event When: Thursday, May 19, 2022, 3 –6:30 p.m. Where: The Electrical Industry Building - 1330 Conway St., Saint Paul 55106   Discover your path to a union career!  Earn while you learn and rise above minimum wage! Learn about the advantages of...