Midway Area In-Person Job Fair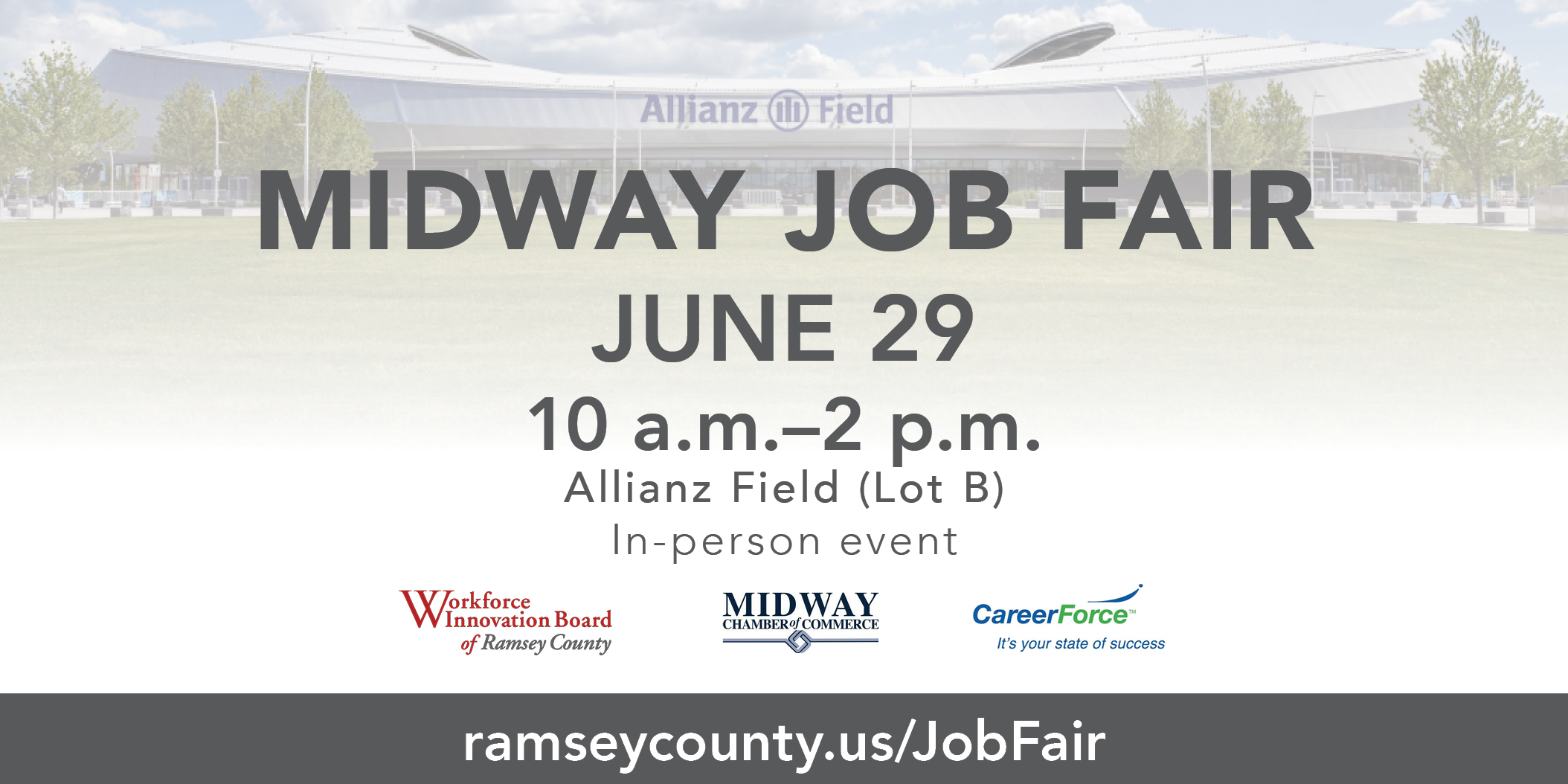 23 Jun 2021
Workforce, News
MIDWAY IN-PERSON JOB FAIR
Tuesday, June 29, 2021 | 10 a.m.–2 p.m. | Allianz Field (Lot B) *In case of rainout, event will move to Wednesday, June 30.
Connect with 25 local companies that have current job openings. The fair will be held outdoors. All are welcome.
Attendees can enter for a chance to win one of 10 refurbished laptops! Laptops provided by Tech Discounts.
Free vaccination clinic on site!
For more information visit ramseycounty.us/JobFair
Featured Employers:
Allianz Field/Minnesota United FC
American Engineering and Testing
Army Corps of Engineers
BEST Security
BIX Produce
Bureau of Alcohol, Tobacco and Firearms
Community Action Partnership of Ramsey & Washington Counties
Concordia University, University of St. Thomas and Saint Paul College
City of Saint Paul
Delaware North
Deneen Pottery
FBI
Impressions Inc.
M Health Fairview & Ebenezer Senior Care & Living
Medica
Minnesota State Fair
MN State Driver & Vehicle Services
National Park Service
Ramsey County
Saint Paul Public Schools
Target
Tech Dump/Tech Discounts
Thrivent
Transportation Security Administration (TSA)
U.S Customs
U.S. Postal Service
Warners' Stellian
WestRock
Xcel Energy
YMCA of the North
....and more!
This event is supported by our Community Partners: