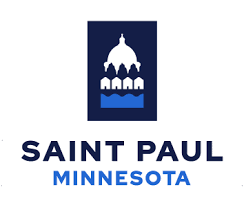 Part-Time
Law Clerk
at
City of Saint Paul
Posted Date:
October 27, 2023
Education Level:
Bachelor's Degree
The Saint Paul City Attorney's Office is accepting applications for a part-time law clerk position in the Litigation Division. This position requires 20 hours of work per week. This is a year-round position, with work beginning in January 2024.
Duties include: Legal research and writing, drafting memoranda, document preparation, and other general clerking duties are also expected.
Qualifications: Candidates for this position must be enrolled in an accredited law school, must have completed at least one year of law school, and must have strong research and writing skills. We are looking for law school students who expect to graduate in 2024 or later.
We are looking for individuals who have excellent academic credentials, strong analytical and communication skills, and a demonstrated potential for public service.
The City of Saint Paul offers an excellent benefits package including health insurance, retirement contributions and paid time off.
Essential Functions are the functions that the individual holding the position must be able to perform unaided or with the assistance of a reasonable accommodation. The Essential Functions for this position are identified in the Supplemental Information section of the Law Clerk Job Description.
The City of Saint Paul's mission is to integrate equity and inclusion into how we approach all our work. Our vision is to be committed to building an equitable and inclusive city that will shift culture in city processes and policies, eliminate structural inequities, and ensure timely and relevant access to services, resources, support, and opportunity to every person in Saint Paul.
Qualifications
Completed at least one year of law school at an accredited law school
Currently enrolled at an accredited law school
Experience performing legal research and analysis
Experience using Westlaw and/or other computer assisted research programs
Preferred Qualifications:
Completion of a clinical or other practical skills course
Eligible to become student certified under the Student Practice Rules
Law clerk or related experience
Continued employment as a Law Clerk is contingent upon maintaining the enrollment and qualifications outlined above.
City of Saint Paul
25 W 4th St, Suite 200

Saint Paul
, USA
, Minnesota
55102

US