In Ramsey County, 'Ujamaa' means Collaboration and Transformation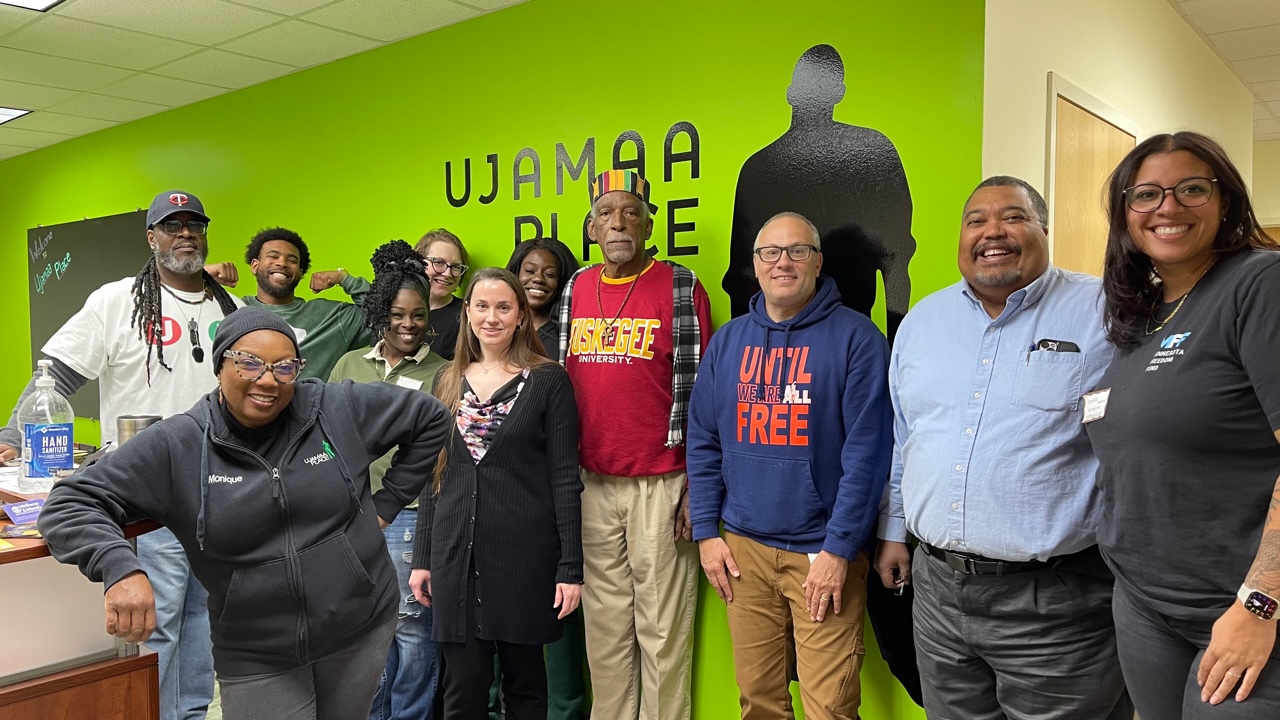 5 Jun 2023
Workforce Stories, News
This piece is the third in a series of Fair Opportunities articles intended to raise awareness of the employment needs of justice-impacted individuals in Ramsey County and the benefits to employers willing to give these returning citizens a chance at meaningful employment. Watch for upcoming content with detailed looks into active area providers and resources, as well as businesses and individuals who have directly benefited from their interactions. Justice-impacted individuals and local employers can contact Ramsey County Workforce Solutions for assistance.
Regardless of a person's cultural background or race, they often associate the term 'community' with strong relationships with others where they live and work, coming together to help each other make their goals and the lives they seek more attainable.
For justice-impacted individuals, a positive community environment is vitally important yet challenging to obtain. A recent Ramsey County Community Corrections survey indicated the most common need of adults on probation is a better connection with resources in the community.
The Saint Paul-based organization, Ujamaa Place, tackles the collaborative effect community can have on reducing crime, homelessness and other barriers facing men today. It takes its name from one of the seven principles of Kwanzaa, "ujamaa," meaning "cooperative economics" and "familyhood." Ujamaa Place is a brotherhood of men.
"We take to heart that we are an "extended family," said Ujamaa Place Housing Coach CJ Jessup. "Our goal is to stabilize the lives of men by enrollment into the Theory of Transformation™, a culturally designed framework of holistic programming that serves to help enrolled participants secure and maintain stable housing, increase educational attainment, secure / retain employment, connect with family/children and eliminate contact with the criminal justice system.
Delivering transformation
Since opening its doors in 2010, Ujamaa Place has provided support services to help men build positive lives and move into contributing roles in society. The men are primarily African American aged 18-30 in the Twin Cities seven-county metropolitan area who face employment, housing and other burdens. The men enroll at no cost with Ujamaa Place and receive transformational services through its Theory of Transformation™.
Its main office is located on University Avenue in Saint Paul, while it manages and maintains several scattered-housing properties in the city with a capacity for 32 participants living in the three transition housing sites and two long-term housing sites that the men transition to, in partnership with PPL. Transitioning to long-term housing is the goal within one year if the men successfully meet their Individual Transformation Plan (ITP) goals, which they create with their navigator at enrollment.
Pillars of success
Ujamaa Place's Theory of Transformation™ centers on five main pillars – housing, employment, education, wellness and criminal justice advocacy. All pillars embed culture and all men enrolled have access to over 37 services at no charge. The organization assigns coaches to each participant. Coaches also have the responsibility of managing a pillar. Each participant has the support of their assigned coach, as well as the coach that manages the pillar based on their ITP needs.
"All the coaches have the same goal - to transform lives - and we recognize everything goes together," said Ujamaa Place Employment Coach Nigel Sharper. "It's difficult to secure a place to live without a job, and it's tough to get a job if a person has some sort of dependency and that is true for each pillar, so we know we all have to work together to make things straight."
Help for those who need it
For most individuals coming to Ujamaa Place, unhealed trauma is an underlying theme and a real barrier to living the lives they seek. Services are allocated to the men by their coach based on their needs. Participants are referred to Ujamaa Place by parole and probation agencies, mothers and family members. Weekly information sessions are held at the main office every Wednesday at 10:30 am, where walk-ins or concerned families and friends can bring men in to learn about Ujamaa Place and the benefits of enrollment into the Theory of Transformation™.
An average of 60-70% of Ujamaa Men have a connection to the criminal justice system, while 80-90% are homeless or have unstable housing. Ujamaa Place serves primarily Black or African-American (92%), however, the program is available to men of all ethnicities experiencing inequities at the intersection of race and poverty.
Highly successful
Since it began operations in 2010, Ujamaa Place has successfully transformed over 6,000 men. It has maintained a 4%-6% recidivism rate since its inception, compared to a 38% rate reported in the Minnesota Department of Corrections 2021 Performance Report.
Ujamaa Place CEO Chris Crutchfield attributes stabilization and transformation success to the hard work the men put in with the support of staff, supporters, policymakers, the Ujamaa Board of Directors and the community.
"Transformation is not easy work for the men, which is why we celebrate every success they make along the way of their Theory of Transformation™ journey," said Crutchfield.
"Everyone involved knows we are transforming lives," said Jessup. "As one of the coaches, I can say many of us have made similar mistakes or lived through similar situations. The men we work with can relate to us and see different paths are possible through us."
Jessup is excited about the future with Crutchfield, who recently took over for retired CEO Otis Zanders, who oversaw the successful transformations occurring through much of Ujamaa Place's existence.
"His phenomenal leadership will help us move forward in the future in providing second-chance opportunities and unity in the community," he said.
For the community
In the Twin Cities, the Ujamaa name is synonymous with collaboration and transformation. Several coaches have places in Saint Paul Public Schools or are involved with area sports and recreation organizations during their free time. Its name and services are well-known in regional correctional facilities, with justice-impacted individuals eager to work with them upon release. Ujamaa Place typically has a booth during July's Rondo Days and its members are actively involved in Twin Cities Men's Movement. Sharper found meaningful work in various roles for over a decade in nonprofits. While only recently hired as an Employment Coach, none of those past experiences have compared to the satisfaction he has found with Ujamaa.
"Not every black man grows up with a positive role model, so we as coaches are here to show that success can take many different paths to live a positive life," he said.
If you find the Ujamaa Place mission intriguing and would like to be involved, see the Ujamaa Place website for current career openings and volunteer and donation opportunities.
Other area organizations
Some other area organizations working to connect justice-impacted individuals with resources include: