Making the Foundation for Manufacturing Careers in Saint Paul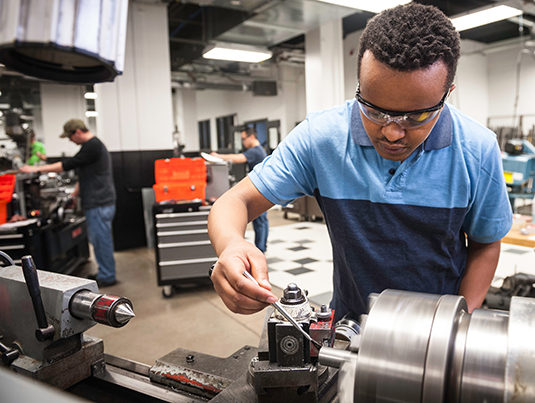 4 Oct 2022
News, Workforce Stories
Over the last 30 years, the role of trade careers in the American economy has been greatly minimized. Manufacturing, in general, has been gaining momentum across the nation since the COVID-19 pandemic, leading to rising demand for skilled machinists and toolmakers. St. Paul College (SPC) is a critical contributor to meeting that demand in Minnesota.
"I believe we have done a disservice to our youth to point them away from the benefits of a career in the trades," said Drew Hamilton, Workforce Training and Continuing Education Coordinator at SPC. "But I know some machinists who earn more than many doctors without the debt load to get to that point."
SPC offers several programs in Career and Technical Education to help meet the increasing needs of residents and employers alike. One program rapidly gaining popularity is CNC Toolmaking. The Computer Numerical Control (CNC) process is an advanced way of accurately shaping metal with a high-quality attitude.
The SPC program includes three semesters of hands-on training and classes that prepare students for promising careers as machinists, CNC programmers, toolmakers and other roles. Completing the program is a favorable financial scenario compared to other career paths. Tuition is around $11,000 for the three semesters, with graduates earning up to $60,000 annually immediately once hired. But the sky is the limit regarding earning potential, as illustrated by salary.com, which indicated the average toolmaker salary in Minnesota was $88,833 in August 2022.
"Our program offers students the skills and foundation to pursue so many different avenues," said Garrett Byrne, the SPC machine tool instructor.
Potential local employers, like Mold Craft, Mo-Tech, Wilson Tool, Graco, VistaTek, LOFTECH and Omnitool compete for SPC graduates. The work is immersed in the latest technology, which is always evolving and changing, leading to interesting work at growing companies.
"These are not your grandfather's manufacturing companies," said Byrne. "Most jobs are in climate-controlled environments with employees in t-shirts and jeans."
In addition to the classes, the program design offers students the ability to work part-time jobs in the field while attending school.
"Not only are they learning in our program, but they can continue earning money for living expenses while attending school," said Byrne. "These facilities are prospective full-time employers once they finish our program."
Customized workforce training
SPC also offers custimized training programs to help employers develop their workforce, tailored to what fits their needs. Most employers do not have enough employees to send some through the three-semester program or cannot afford to shut down their operations while employees attend training.
"Most employers have that one guy, who has been there for 30 years and knows everything, but they need a dozen more like him," said Hamilton. "So we design the training program to upskill their employees, which hopefully creates growth and results in openings to hire more employees."
SPC's Workforce Training offers customized programming for area employers, whether at the college, online or the employer's location. The training programs focus on Commercial Drivers License Class A, computer software, culinary services, customer service, healthcare, leadership, manufacturing processes and water utility treatment technology. Hamilton leads the development of customized training for the manufacturing processes program to deliver quality, up-to-date instruction for today's fast-paced workforce and productivity requirements, from welding and machine training to CNC operation, AutoCAD and more.
Billion-dollar floor
Hamilton said a significant advantage of their programming is the presence of a world-class machine shop floor. It is one of the largest, if not the largest, machine shop floor under the Minnesota State College and University umbrella. The number of machines, from dozens of drills, mills and grinders to CNC mills, lathes and wire feeds in the state-of-the-art machine shop, showcases the tremendous support from SPC and industry advisory board members.
"We call the 1000-foot hallway the 'Green Mile' or the 'Billion-dollar floor' due to the overall value of everything within, which illustrates the community's commitment to residents and businesses," said Hamilton.
The best way to appreciate the scope of their machine floor is to experience it, said Hamilton. He welcomes prospective students and families for onsite tours but has also created a video for interested persons to visualize.
Continued focus on the trades
Programming popularity has never been better, with 2022 being the best year ever in terms of enrollment and grant opportunities, said Hamilton. The average age of their student is 27 as they see more and more individuals come to the trades after starting other careers.
"It is great to see the change because the country has avoided the trades for a while and now, they are in more need than ever," said Hamilton. "Employers are willing to fight over our graduates - it is absolutely an employee market now."
The future holds continued promise for machinists and other trades careers. Hamilton said the key will be to continue to reach prospective employees. As baby boomers retire and the workforce shrinks, exposure to new sources of labor will be critical. SPC's Career & Technical programming and its offerings for high school students will only gain in importance.
"Good-earning careers have never been more in the palm of our youth's hands than they are today," said Hamilton. "The sky is the limit for a person with a good work ethic who is willing to learn.