Ramsey County Perfect for IT Opportunities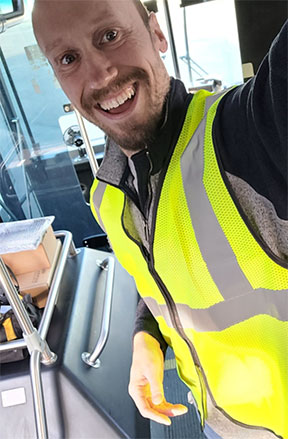 The state of employment across the United States has been changed by the COVID-19 pandemic. The resultant trend toward remote work has heightened the transition away from physical interactions and proximity to jobs reliant on Information Technology (IT).
Ramsey County has the resources to help individuals seeking to make the transition into the IT sector. One resident, Andy Jarvinen found those resources to be most helpful recently, as he made the career move from retail management to IT.
"Opportunities I needed came available at the right time and Ramsey County was the perfect resource," he said.
From Retail Management...
After acquiring a Music Education degree from Millikin University, Jarvinen worked as a teacher and in restaurant management before getting into retail management. After a number of promotions, he found himself as the Regional Visual Director overseeing visual managers for 27 Herberger's stores across Minnesota and the Dakotas. But when Herberger's was liquidated, he found himself without a job in September 2019.
"While I had enjoyed solving retail merchandising problems, the industry historically did not align with my values of ecological sustainability, adding value to humanity and it left me with no sense of purpose," he said. "I decided to pursue a career transition in January 2020 by taking classes to help figure that out."
...to Information Technology
Jarvinen turned to Ramsey County Workforce Solutions, part of the Minnesota CareerForce System, for assistance in his search. He took classes on identifying interests, abilities, building resumes, networking and job searches. He entered a Microsoft Office Specialist (MOS) program in February and also learned of the Dislocated Worker program, available to individuals who have lost their job through no fault of their own, including impacts due to the COVID-19 pandemic. He was assigned an Employment Counselor, Lynne Rollins, to help with job search services, career counseling and training opportunities to help him step back into the workforce with confidence. He completed Transcend-IT, a free computer networking basics program and Rollins helped him obtain funding and apply to Hennepin Tech's Cybersecurity Program.
He decided to pursue a CCNA Certification, an information technology certification from Cisco Systems and achieved that goal by September. Shortly after, he obtained a job as a Field Technician with a startup company. Now, his main tasks involve support for the technology on the Metropolitan Council's fleet of Metro Mobility buses, primarily in support for the network connectivity for bus navigation systems, payment systems and security camera systems.
"Obtaining the CCNA certification was key in acquiring the role as a Field Technician," he said. "I had never worked with this hardware or equipment before but went in believing that people can learn anything. I do a lot of research to try and understand how the systems work and then pinpoint the problem and implement a solution."
Jarvinen is thankful for all the tools Ramsey County made available to him. The CareerForce classes helped narrow down his career focus and refine his job-search skills. The MOS and Dislocated Worker program led him to opportunities with Transcend IT and Hennepin Tech.
"All the while I had support from people like Rollins and Joe Richter and Rachel Stiglitz with MOS," he said. "They all followed up with my progress, because they all wanted to help me succeed."
Enjoying Work
Jarvinen has also discovered that, despite making the career switch, his continued education has not stopped.
"I have acquired certifications in Sierra Wireless equipment, CradlePoint IoT gateways, Cisco IoT hardware and Cisco Hyperflex Datacenter," he said. "IT is all about learning and the certifications demonstrate to employers that a person can learn."
Looking back at the past 18 months, Jarvinen marvels at the change he has experienced.
"I am almost thankful my company went out of business, because while I had been thinking about it for years, I am not sure I could have just walked away," he said. "Now with the help of the people in Ramsey County, I feel a lot better about what I am doing with myself and for others."