Dietary Aide
When newly-arrived clients walk into the Institute searching for their first job in the United States they need an entry-level job that does not require a high level of English or previous experience. The Hospitality Careers Pathway serves New Americans facing barriers to employment. Our Housekeeping Training helps New Americans to overcome these barriers and secure much-needed employment. The Pathway also includes Dietary Aide and Supervisor Training, to help build a career in which they can advance to earn a sustainable living.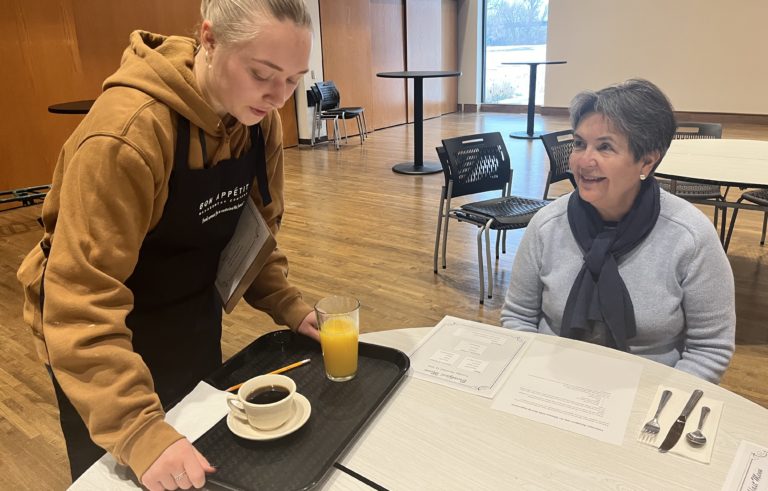 Dietary Aide Training is a free employment program for New Americans. This course prepares students to work in nursing homes or hospitals as servers.
In this class students will learn:
Food safety
Infection control
Nutrition
Special diets & patient orders
American foods
Computer skills for the workplace
Customer service best practices and patient dialogue
Financial coaching
Practical experience serving and communicating with older adults
After training, the Institute employment specialists provide employment assistance, placement and ongoing employment support. Wages range from $14-$17/hour.
To qualify for this program, an applicant must:
Be born outside of the United States (refugee, asylee, permanent resident, naturalized U.S. citizen or survivor of trafficking)
Be in good physical condition and want to work as a dietary aide
Have conversational English skills
Schedule
A bus pass or gas card is provided during class, and this training meets MFIP program hourly requirements.
Next Session: May 1 – May 26
Monday through Friday, 9:30 a.m.- 1:30 p.m.
Class will be taught in-person at the International Institute of Minnesota (1694 Como Avenue, St. Paul MN)
Contact Lynn Thompson
Lynn Thompson Hospitality Program Manager and Instructor International Institute of MN 1694 Como Ave
Saint Paul, MN 55108
P: 651-377-8626 W: https://iimn.org/