Innovative Business Development Public Infrastructure Program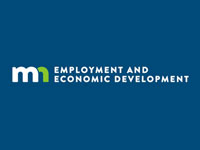 This program focuses on job creation and retention through the growth of new innovative businesses and organizations.
The program provides grants to local governmental units on a competitive basis statewide for up to 50 percent of the capital cost of the public infrastructure necessary to expand or retain jobs.
Eligibility
Local governmental units (cities, counties, townships, special districts, or other political subdivisions or public corporations) are eligible to apply for a grant.
Cities must provide a 50 percent match of the project capital costs.
Projects must involve publicly-owned infrastructure related to a development project, or research park development that would be used by an innovative business that is engaged in proprietary technology.
Funds from this program can also be used for land acquisition and preparation, telecommunications, bridges, parking ramps, demolition, hazard remediation, predesign, construction, equipment and furnishings.
Locations
Arden Hills
Blaine
Falcon Heights
Gem Lake
Lauderdale
Little Canada
Maplewood
Mounds View
New Brighton
North Oaks
North St Paul
Roseville
Saint Anthony
Saint Paul
Shoreview
Spring Lake Park
Vadnais Heights
White Bear Lake
White Bear Township

Category
DEED Community Financing
Business Expansion and Job Creation