Minnesota Investment Fund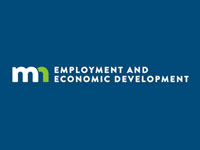 This program provides up to $1 million in financing to help add new workers and retain high-quality jobs. The program focuses on industrial, manufacturing and technology-related industries and aims to increase the local and state tax base and improve economic vitality.
Eligibility
Funds are awarded to local units of government that provide loans to assist expanding businesses. Cities, counties, townships, selected economic development organizations and recognized Indian tribal governments are eligible. Local government submits an application on behalf of the expanding business.
All projects must meet minimum criteria for private investment, number of jobs created or retained and wages paid.
At least 50 percent of total project costs must be privately financed through owner equity and other lending sources.
Local Loan Funds
Over the years, many communities that participated in MIF have created local revolving loan funds that complement MIF loans. These loan programs are accessed directly through the local government.
Locations
Arden Hills
Blaine
Falcon Heights
Gem Lake
Lauderdale
Little Canada
Maplewood
Mounds View
New Brighton
North Oaks
North St Paul
Roseville
Saint Anthony
Saint Paul
Shoreview
Spring Lake Park
Vadnais Heights
White Bear Lake
White Bear Township

Category
DEED Business Financing
Business Expansion and Job Creation