Emerging Entrepreneur Loan Program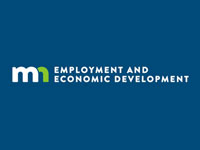 The program supports the growth of businesses owned and operated by minorities, low-income persons, women, veterans and/or persons with disabilities.
DEED provides funding to certified nonprofit partners to make loans to these Minnesota businesses throughout the state. The program is designed to encourage private investment, provide jobs for minority and low-income persons, create and strengthen minority business enterprises, and promote economic development in low-income areas.
Eligibility
Startup and expansion costs, including normal expenses such as machinery and equipment, inventory and receivables, working capital, new construction, renovation and site acquisition, are eligible for the program. Finance of existing debt is not permitted. Private match of programs funds is required.
Businesses in most industries are eligible. However, a retail business is only eligible if it is a beginning microenterprise, defined as businesses that have fewer than five employees and has generated sales revenue for two years or less.
Businesses should apply directly with a certified lender. Once the lender approves the loan, they will forward the loan package to DEED for approval by the commissioner and disbursement of funds for the project.
Locations
Arden Hills
Blaine
Falcon Heights
Gem Lake
Lauderdale
Little Canada
Maplewood
Mounds View
New Brighton
North Oaks
North St Paul
Roseville
Saint Anthony
Saint Paul
Shoreview
Spring Lake Park
Vadnais Heights
White Bear Lake
White Bear Township

Category
DEED Business Financing
Entrepreneurship