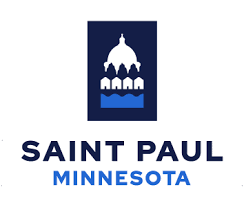 Full-Time
Solid Waste Services Worker
at
City of Saint Paul
Posted Date:
September 8, 2023
Compensation:
$28.34 - $28.68
Education Level:
Certification
Are you looking to start a career with the City of St. Paul? Our Public Works Solid Waste and Recycling Division is seeking individuals to join our team. As a Solid Waste Services Worker, you will have the opportunity to perform a variety of tasks to help lead collection efforts and provide customer service to residents as the solid waste collection program is rolled out across Saint Paul. We offer competitive wages and a great benefits package. There are regular full-time vacancies requiring a Class B or Class A Commercial Driver's License (CDL) with no restrictions for air brakes and temporary vacancies requiring a Class D Driver's License.
Successful temporary Solid Waste Service Worker candidates with a valid Class D Driver's License are eligible to participate in a free City provided CDL training program.
Saint Paul Public Works is a nationally accredited department responsible for the design, construction and maintenance of the street, sewer, and drainage infrastructure systems in the City of Saint Paul. Solid waste services protect health and safety for Saint Paul residents and Solid Waste Services Workers provide high quality customer services throughout the City.
Typical Work Schedule Monday - Friday from 6:00 a.m. to 2:30 p.m.
Overtime Expectation: Overtime work is an expectation of Solid Waste Services Workers. You will be expected to show a commitment to public service by responding to afterhours calls, overtime, and emergency work as necessary.
Essential Functions are the functions that the individual holding the position must be able to perform unaided or with the assistance of a reasonable accommodation. The Essential Functions for this position are identified in the Supplemental Information section of the Solid Waste Services Worker Job Description.
The City of Saint Paul's mission is to integrate equity and inclusion into how we approach all our work. Our vision is to be committed to building an equitable and inclusive city that will shift culture in city processes and policies, eliminate structural inequities, and ensure timely and relevant access to services, resources, support, and opportunity to every person in Saint Paul.
Responsibilities
General Duties: Performs manual labor collecting recycling, garbage, bulky items, and yard waste and maintaining garbage and recycling carts. Works outdoors in all types of weather; nights, weekends, holidays, and reasonable overtime as required. Performs garbage, bulky item, yard waste collection at residential properties, and trash removal from the public right-of-way. Cleans and repairs garbage and recycling carts and maintains inventory. Operates and performs daily inspections and maintenance on trucks, gasoline powered, and electric tools. Uses electronic field data management tools as needed. Performs related duties and responsibilities as required.
Primary Responsibilities:
-Delivering recycling carts to new customers, transporting recycling from residence to Pierce Butler sites, and returning repaired recycling carts to customers -Performing recycling, garbage, bulky items and yard waste collection for residents -Providing customer service to residents and answering customer questions -Working in all types of weather and environmental conditions -Walking, lifting, pushing, pulling, standing, and stooping on uneven and slippery surfaces -Bending, crawling, climbing, lifting, shoveling, and stooping repeatedly and for long periods of time -Lifting and carrying equipment, tools, supplies, and materials up to 100 pounds
Qualifications
Must possess and maintain a valid Minnesota Class B or Class A Commercial Driver's License (CDL) with no restriction for airbrakes. The CDL must have no suspensions or revocations for driving related offenses during the two year period prior to the date of appointment. Suspensions for parking related offenses are excluded.
Candidates with a valid Class D Driver's License may participate in the assessment and be eligible for temporary employment, however, must obtain a Class B or A Commercial Driver's License with no restrictions for airbrakes within 6 months from date of hire.
Must pass a DOT required pre-employment drug screen and submit to DOT mandated random drug and alcohol testing after hire.
City of Saint Paul
25 W 4th St, Suite 200

Saint Paul
, USA
, Minnesota
55102

US