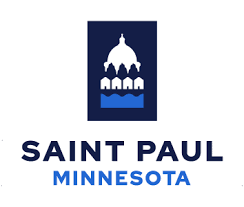 Full-Time
Forestry Arborist
at
City of Saint Paul
Posted Date:
May 15, 2023
Compensation:
$30.09 - $31.09
Saint Paul Parks and Recreation is a nationally accredited and gold medal award-winning organization that manages 182 parks and open spaces, 26 city-operated recreation centers, more than 120 miles of trails and a vibrant urban forest.
The Forestry section of the City of Saint Paul Parks and Recreation Department is responsible for the care, maintenance, preservation and vitality of street and parkland trees in Saint Paul and we are currently looking for three certified and one temporary Forestry Arborist's to join our team! The City of Saint Paul offers an excellent benefits package including low-premium health insurance, retirement contributions and generous paid time off throughout the year.
Information about this position: This division is located at 1100 Hamline Avenue North, Saint Paul, MN 55108. Forestry typically operates on a Monday through Friday, 7:00 am to 3:30 pm schedule, however, staff are expected to respond to emergencies and be available for scheduled weekend work as necessary.
Employees, especially those who hold ISA certifications, are encouraged to take advantage of training opportunities both internally and outside of the city. New employees who do not currently possess a Commercial Driver's License (CDL) will be provided assistance with obtaining training and testing for the CDL within six months of hire.
Here is what you can expect in the role: Performs manual and skilled forestry work involving the planting, maintenance, or removal of trees, stumps, and debris. Drives trucks and operates equipment in a tree maintenance operation. Performs other related duties and responsibilities as required.
Typical Duties and Responsibilities: (does not include all possible work duties)
Performs a variety of technical tasks in the maintenance, preservation, and removal of the City's boulevard and park trees.
Properly ties knots and hitches commonly used in arboriculture for climbing and rigging. Works from ladders and is proficient in the use of climbing ropes, harness and equipment for climbing operations.
Properly and safely operates and maintains hand and power tools, motor vehicles, small engine equipment and other equipment and tools in the performance of their assignments.
Recognizes and identifies trees, tree diseases, and pests; completes visual inspections of trees and their canopy.
Maintains grounds and buildings; maintains work areas in a neat, orderly, and quality manner; responsible for site clean-up.
Completes required documentation either manually or electronically including forms, records, and daily reports that are complete, accurate, clear and timely.
Operates in sometimes difficult, hazardous and/or unpredictable work conditions, including responding to emergencies such as storm clean up or snow removal.
Wears ear, eye and head protection, safety shoes and other protective apparel as required. Supports the safety of one another.
Follows, guides, and orients others in established Department and City rules and policies, OSHA (Occupational Safety and Health Administration) standards, and safety practices as set forth in the American National Standard for Arboriculture Operations: Safety Requirements (ANSI Z133.1).
Essential Functions are the functions that the individual holding the position must be able to perform unaided or with the assistance of a reasonable accommodation. The Essential Functions for this position are identified in the Supplemental Information section of the Forestry Arborist Job Description.
The City of Saint Paul's mission is to integrate equity and inclusion into how we approach all our work. Our vision is to be committed to building an equitable and inclusive city that will shift culture in city processes and policies, eliminate structural inequities, and ensure timely and relevant access to services, resources, support, and opportunity to every person in Saint Paul.
Qualifications
One year of experience with a tree maintenance company or a municipal forestry operation where the duties included maintenance and removal of trees utilizing rope and harness and/or aerial techniques.
Must complete and successfully pass an initial ANSI Z133 Safety Standard for Tree Care Operations and Incidental Line Clearance training provided by the City of Saint Paul within one year of appointment. Must complete and pass an annual ANSI Z133 Safety Standard for Tree Care Operations and Incidental Line Clearance recertification training provided by the City of Saint Paul.
Must possess and maintain a valid Minnesota Class B or Class A Commercial Driver's License (CDL) with no restriction for airbrakes. The CDL must have no suspensions or revocations for driving-related offenses during the two-year period prior to the date of appointment. Suspensions for parking-related offenses are excluded.
**Candidates may be hired without a CDL, however, must possess a Minnesota, or equivalent out of state, Class B or Class A Commercial Driver's License with no restrictions for airbrakes within 6 months from date of hire.
City of Saint Paul
25 W 4th St, Suite 200

Saint Paul
, USA
, Minnesota
55102

US