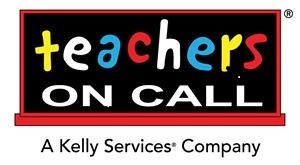 Full-Time
Substitute Teacher and Paraprofessional
at
Teachers On Call
Posted Date:
March 21, 2023
Education Level:
High School
Criminal Background:
Not Eligible
Spring brings fresh starts, and what better time to become a substitute teacher! Give substitute teaching a try before the school year ends! What's great is you'll have time to try different schools and grade levels this year, take the summer off, and be ready to go in the Fall.
Teachers On Call, a Kelly Education Company, is hiring immediately for both substitute teachers and paraprofessionals in the east metro area for the remainder of the 2022-2023 school year.
Become a substitute. • Positively impact the education of students in your own community.
• Feel good about the work you do.
• Earn steady income through short- and long-term substitute positions.
• Enjoy work-life balance.
• Build a work schedule that works for you and your life. • Select your favorite schools, subjects, and grade levels to inspire. Substitute Teacher Responsibilities:
• Assume duties of the classroom teacher in accordance with school district lesson plans, school rules, and Kelly policies. This includes:
• Leading instruction in the classroom by conducting the teacher's existing lesson plans
• Teaching students on a variety of classroom topics/courses
• Building positive relationships
• Assigning reasonable tasks and homework
• Empower students to learn, and encourage classroom participation
• Create a classroom environment that's conducive to learning and appropriate to the maturity and interests of students
• Adapt to the various learning styles of students
• For long-term assignments, it may be required to develop lessons plans, as well as create, administer, and grade tests and assignments
Substitute Paraprofessional Responsibilities:
• Provide classroom assistance to the district/school teacher and support to the general education or special needs students.
• Ensure adequate supervision of students and classroom environment to assure health, welfare, and safety of students.
• Assist students in transition to and from classrooms, as needed
• Understand, address, and be attuned to the needs of each student, recognizing differences in their abilities and cognitive levels
Qualifications
Minimum requirements:
• HS Diploma/ GED • Substitute Teacher – Bachelor's degree with MN Teaching or Substitute License
• Ability to read, write and communicate in the English language fluently and effectively • No experience necessary; we provide training! Entry-level candidates encouraged to apply. • Don't have license but want to teach? No problem! We will guide you through the licensing process.
Perks you'll enjoy as a substitute:
• Work part-time or full-time depending on your preferences and district needs • Free ongoing professional development to keep your skills sharp
• Weekly pay, with rates dependent on position and school
• ACA-compliant health plan and other health options available for purchase, which may include: medical, dental, and vision • Group insurance options* • Free employee wellness program • 401(K) Plan • Paid Sick Leave dependent on state, county, or city requirements • *Offered and administered by Enroll VB. These plans are not sponsored by Kelly. • Learn more here: https://www.mykelly.us/us-mykelly/perks/
Next steps:
• Apply directly on our website to get started right away: https://www.teachersoncall.com/talent/apply-now.
• Reach out to a recruiter right away with any questions at 952-223-8357. • If you know someone who would make a phenomenal substitute, share this job. We are always looking for more role models!
Our commitment to you:
It is the policy of Kelly Education to provide equal employment opportunity in recruitment, selection, training, compensation, promotion, job transfer, and assignments. We only base employment decisions on valid job requirements. We will ensure that individuals with disabilities are provided reasonable accommodation to participate in the job application or interview process, to perform crucial job functions, and to receive other benefits and privileges of employment.
Teachers On Call
3001 Metro Drive Suite 200

Bloomington
, MN
, United States
55425

US