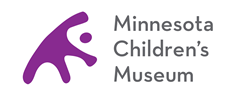 Part-Time
Visitor Assistant: Box Office - Weekends
at
Minnesota Children's Museum
Posted Date:
October 26, 2022
Criminal Background:
Case-by-Case Review
Minnesota Children's Museum's mission is sparking children's learning through play. We believe that diversity, equity, and inclusion is integral to fulfilling our mission. As a community resource for thousands of families, Minnesota Children's Museum is dedicated to providing children with a fun, hands-on and stimulating environment to explore and discover.
This Visitor Assistant in our box office is responsible for providing excellent customer service to visitors at the box office, lobby, as well as in galleries and public spaces. This role also supports sales initiatives and achieves designated sales goals.
PAY: Starting pay is $15.00 per hour.
COMMISSION: $5.00 per membership sold
PAY INCREASES: Employees receive a 0.50 cent pay increase after 6 months of active employment and another 0.50 cent pay increase after 12 months. Additional pay increases will take effect annually following one year of employment and align with the hire date.
BONUS: You will be eligible for a Service Award Bonus at your 14 month mark. The bonus is 5% of your gross earnings in the first 14 months of employment.
SCHEDULE: Our Visitor Assistants – Box Office Weekend staff will need to meet the following schedule requirements: Available to work every weekend (Saturday & Sunday) Accommodate any shifts during our hours of operations (Morning to Evening) Available to work on federal holidays when the museum is open to the public Have between 12-25 hours of availability per week
COMMUTER BENEFIT: The Visitor Assistant is eligible for a $40 per month stipend to support expenses in commuting to the museum. The benefit is added to the employee's second paycheck of each month.
IDEAL CANDIDATE Ability to express ideas clearly and present information effectively to museum visitors in crowded settings Ability to display a high level of flexibility and handle complex situations Ability to work independently and make sound customer service decisions Knowledge of basic mathematics
AVAILABLE BENEFITS Free admission to museum for family Competitive pay Flexible Schedule Commuter Benefit Retirement savings plan with employer match Pre-tax options for transportation Earn time off for Sick & Safe Leave
ABOUT MCM Located in downtown St. Paul, MN, MCM employs 55 full-time and 55 part-time employees and engages variety of volunteers and interns. At MCM, our workplace values that guide how we work together are: Play, Include, Grow, Serve, and Strive.
We are dedicated to growing a diverse and culturally competent team of highly engaged staff and volunteers to reflect and equitably serve the vibrant community around us. We embrace differences in age, ability, color, ethnicity, gender identity and/or expression, national origin, race, religion, and sexual orientation. We strongly encourage the application of individuals from diverse backgrounds, including but not limited to: Black, Indigenous, and people of color; immigrants and refugees; LBGTQIA individuals; people with disabilities; religious minorities; and the elderly.
MCM'S COVID SAFE PLAN The Minnesota Children's Museum is committed to providing a safe and healthy workplace for all of our employees and volunteers. We have developed the SAFE Plan in response to the COVID-19 pandemic. Every leader, manager, employee and volunteer are responsible for implementing this plan. Our goal is to mitigate the potential for transmission of COVID-19 in our workplace, and that requires full cooperation.
The museum believes COVID vaccinations are a vital tool in protecting yourself and others. We do not mandate a vaccination at this time and encourage our staff to take preventative steps to slow the spread of COVID by staying home when you are sick, testing when sick or exposed, and masking when sick or exposed.
Minnesota Children's Museum is an Equal Opportunity Employer committed to a culturally diverse work environment.
Applications To be considered please complete the online application process on our website: http://www.mcm.org/jobs.
Responsibilities
Accurately process all types of sales using computerized ticketing system Provide excellent customer service to all visitors in the lobby and museum entrances while maintaining a safe environment Achieve designated sales goals Support visitor and operations needs in the galleries and attend designated trainings
Qualifications
MINIMUM QUALIFICATIONS One-year customer service experience Experience using a computerized point of sales (POS) system Ability to complete basic first aid training (provided by the Museum)
PREFERRED QUALIFICATIONS Experience working or volunteering with children
Minnesota Children's Museum
Contact:
Dayana
Lopez-Martinez
10 W 7th Street

Saint Paul
, Ramsey
, Minnesota
55102

US
Transit:
On the Green Line, On bus line