BizRecycling Relief Grants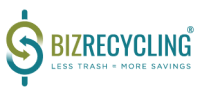 Ramsey/Washington Recycling & Energy (R&E) has allocated funding to support small businesses that are facing financial hardship as the result of COVID-19, recent civil unrest or the economic downturn.
One-time grants of up to $10,000 will be awarded to eligible businesses for operational expenses related to managing waste and recycling effectively.
These funds are an extension of the R&E commercial recycling program, BizRecycling. BizRecycling helps business reduce waste and improve recycling and organics collection.
Use of Funds
Businesses may apply for a grant to cover the following expenses:
6-months reimbursement for recycling and organics hauling costs.
6-month purchase of recyclable or compostable dinnerware or to-go packaging.
6-month purchase of packaging for food recovery and donation efforts.
Infrastructure and equipment for use in food recovery and donation efforts.
Up to 10 hours per month staff wage (up to $20 an hour) for operational costs related to recycling, organics, food recovery and waste reduction efforts for a period of 6 months.
One hour of staff wages per staff member to receive recycling training. Training will be on-site at your business and hosted by a BizRecycling consultant. Hourly rate is an average of employees in attendance, not to exceed $20 per hour.
Other operational needs related to the overarching goals of waste reduction and recycling best practices, as approved by R&E.
Businesses may not use funds to pay trash hauling costs or business expenses not related to waste reduction.
Eligibility
Businesses must meet the following criteria:
Locally-owned and operated businesses in Ramsey and Washington Counties.

A "business" is defined to include for-profit entities and non-profit entities.
"Locally-owned and operated" means a business with a physical address documenting business as established in Ramsey or Washington County.
Multiple business locations in Ramsey and Washington Counties that are owned by the same entity are eligible for individual grants as long as each location meets all eligibility criteria.

Employee equivalent of 5-100 full time workers, as of March 1, 2020.

For businesses with multiple locations in Ramsey and/or Washington Counties, the employee equivalent is the cumulative number of employees across all locations.

Experienced financial hardship as a result of COVID-19, civil unrest or the economic downturn.
Agree to a 30-minute site visit from a BizRecycling consultant within 6 months of receiving grant funds. The consultant will verify the use of grant funds and provide recommendations on how to reduce waste and improve waste management operations.
Be in compliance with the State of Minnesota's COVID-19 business operations guidance.
Be in good standing with the Minnesota Secretary of State and the Minnesota Department of Revenue as of March 1, 2020.
Previous BizRecycling grantees are eligible to apply for a Relief Grant. Previous grantees must be in good standing with the terms of their previous grant agreement.
Ineligible entities include home-based businesses; corporate chains (but locally owned franchise businesses are eligible); all public, private and charter K-12 schools; multi-unit residential properties; tenants in publicly owned spaces, and colleges or universities.
Locations
White Bear Township
White Bear Lake
Vadnais Heights
Spring Lake Park
Shoreview
Saint Paul
Saint Anthony
Roseville
North St Paul
North Oaks
New Brighton
Mounds View
Maplewood
Little Canada
Lauderdale
Gem Lake
Falcon Heights
Blaine
Arden Hills

Category
COVID-19 Recovery